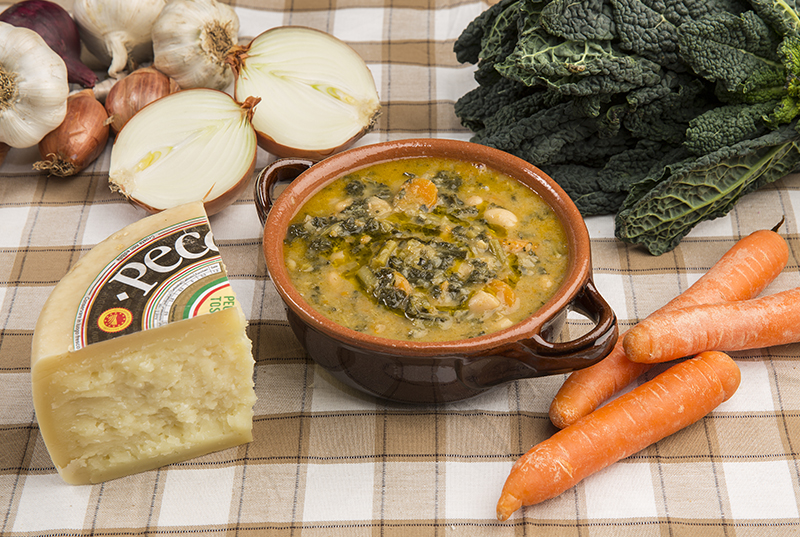 Preparation
Soak the cannellini beans overnight. Heat the EVO oil with the clove of garlic and the sprig of rosemary in a high pot, then add the drained beans and water. Cover the pot and cook for an hour on medium heat. When the beans are cooked, add salt and pepper, remove the sprig of rosemary, take a part of the beans and keep it aside. With an immersion blender, mix the left beans.
Prepare the sauté: put onions, celery, and diced carrots in a pan with a little EVO oil and cook them over medium heat. In the meantime, peel the potato and dice it. Add the potato to the sauté and continue cooking. Pour the peeled tomatoes into a bowl, mash them with a fork, and add them to the vegetables in the pan.
Clean the cabbage, the kale, and the chard cut them coarsely, and add them to the soup. Also, add the blended beans, cover the pot, bring again to the boil, and, when it boils, remove the cover and cook for 45 minutes, stirring occasionally.
When the soup is ready, season with salt and pepper, add the left beans, mix and turn off.
Cut the bread into slices, lay them on the bottom of a bowl, and cover with some soup. Keep going until you finish the ingredients.
Cool the soup at room temperature and, then, in the fridge, covering the bowl with plastic wrap.
When it is cold, pour the Ribollita into a pan, bring it to a boil, flavour it with Pecorino Toscano DOP grated and thyme. Serve it hot.
Ingredients
100 g of grated aged Pecorino Toscano DOP
350 g of dried cannellini beans
1 clove of garlic
1 sprig of rosemary
250 g of cabbage
300 g of kale
300 g of chard
220 g of stale bread
180 g of peeled tomatoes
1 potato
80 g of onions
80 g of carrots
100 g of celery
2 l of water
EVO oil
Salt to taste
Black pepper to taste
Dried chili pepper to taste
Fresh thyme to taste