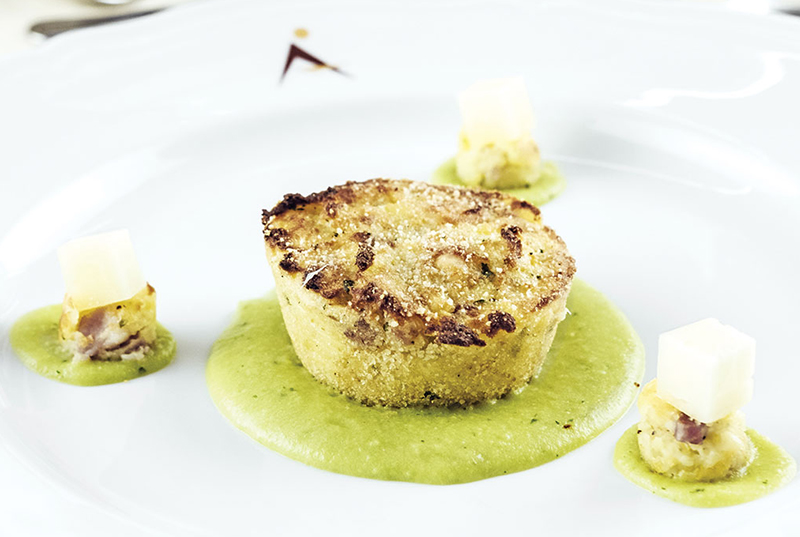 Preparation
Steam, strip, and mash the potatoes,
Mince red onions of Tropea, stew them with diced bacon and mix them with the potatoes.
Add eggs, parmesan cheese, diced Pecorino Toscano PDO, milk, chopped parsley, nutmeg, pepper and salt.
Sprinkle oil on the mold, cover with breadcrumbs and fill them with the mix previously done.
Steam bake at 180°C for 20 minutes.
The sauce
Brown the garlic clove and the julienne chopped red onion of Tropea. Add Tuscan fava beans and stew them with vegetable stock, add salt if needed. Pass it through the mixer and then add basil and Tuscan oil PGI.
Decoration
Get the Pecorino Toscano DOP waffles and the confit red onions of Tropea ready.
Finishing
Cover the dish with the baccelli sauce, place the flans, and decorate with the waffle and the red onion. To be served with Tuscan oil PGI.
Ingredients
Potatoes g 1000
Milk g 200
Small red onion of Tropea gr 150
Nutmeg, Salt, Pepper to taste
Chopped parsley g 10
Pecorino Toscano PDO g 80
Tuscan oil PGI g 3
Bacon g 100
Eggs 2
Pecorino Toscano PDO g 200
The mold

Tuscan oil PGI g 20
Breadcrumbs g 50
Aluminum mold 10
The baccelli sauce

Red garlic cloves of Grosseto 1
Small red onion of Massa g 100
Tuscan oil PGI g 40
Basil g 10
Baccelli (fresh Tuscan fava beans) g 300
Decoration
Small red onions 5
Sugar g 20
Salt to taste
Tuscan oil PGI g 20
Pecorino Toscano PDO g 150