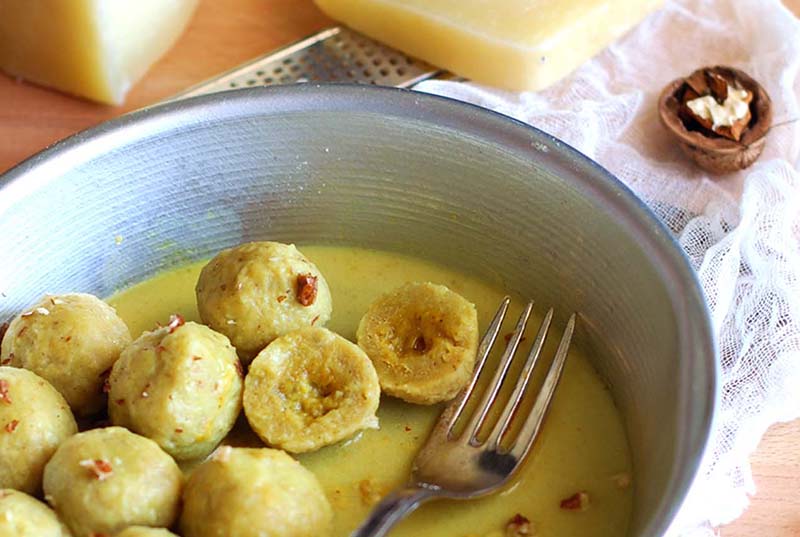 Preparation
Sift together the flour with a pinch of salt.
Boil 1 cup (2.5 dl or 250 ml) of water; just to boil, turn off, add the flour mix and curry, stirring vigorously with a wooden spoon.
Let cool. Knead the dough with your hands until it's firm and smooth.
Prepare the filling by mixing Pecorino Toscano DOP, and curry powder with a few drops of milk with your hands. Shape into gnocchi with slightly damp hands. Put in a bit of stuffing and close them back up, rolling the ball between the palms of your hands so that the filling does not spill out.
Arrange on a floured surface. Boil water in a pot, and when it starts to boil, add two teaspoons of salt. Cook the gnocchi until they begin to rise to the surface.
When they rise to the surface, wait a few more minutes before removing them. Prepare the sauce by melting the cheese with curry and milk. When the dumplings are ready, toss in the pan with the cream and garnish with chopped walnuts and a generous helping of black pepper.
Ingredients
For the dumplings:
1 3/8 cup (125 g) of chickpea flour,
1 ¼ cup (125 g) unbleached flour,
1 tablespoon curry,
1/3 cup (30 g) grated Pecorino Toscano DOP
salt125 g di farina di ceci,
For the filling:
1 ½ cup (150 g) Pecorino Toscano DOP
1 tablespoon curry,
milk to taste
For the sauce:
½ cup (50 g) Pecorino Toscano DOP,
1 teaspoon curry,
½ cup (100 g milk)
To garnish:
A handful of chopped walnuts,
freshly ground black pepper