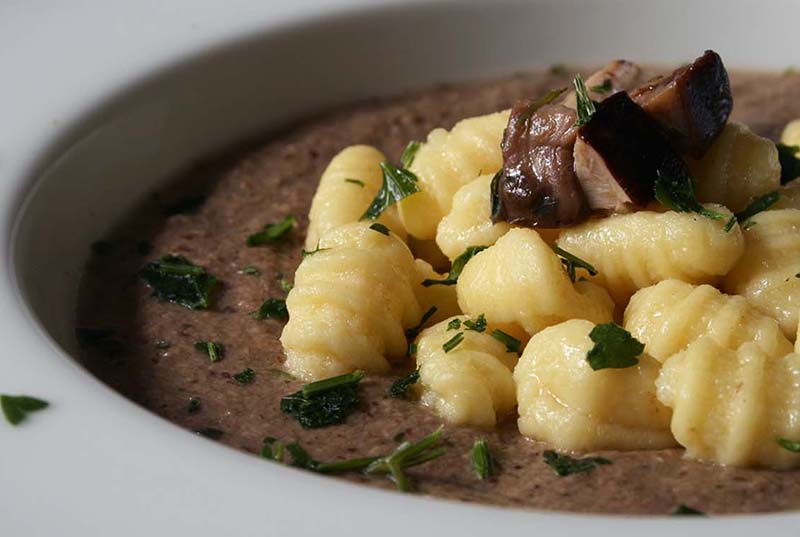 Preparation
Start by making the vegetable stock, even the day before. Clean the zucchini, potato, and carrot and cut them in half. Peel the onion and cut the celery in half. In a saucepan, pour in the cold water; add the vegetables, bay leaf, peppercorns, and garlic poached. Bring to a boil and add 2 teaspoons salt. Cover with the lid and cook for an hour and a half. Salt and strain through a sieve. Now make the gnocchi. Finely grate the cheese. In a bowl pour in the cheese, cottage cheese, and turmeric and stir with a wooden spoon to mix the ingredients. Put the dough on a floured surface, add the egg, flour, and bread crumbs and mix with your hands. If necessary, to get the texture you're looking for, add more bread crumbs. Divide the dough into strands about 2 cm thick and cut the gnocchi with a knife. Run over the gnocchi with fork tines or with another similar tool, gently crushing them.
Finally, move on to making the porcini cream. Clean the mushrooms: scrape the mushrooms with a boxcutter and remove any dirt with a brush. Gently remove the cap from the stem and cut both into thin slices lengthwise. Peel and dice the potatoes. In a frying pan, brown the garlic in oil; add the diced potato and mushrooms, and cook over high heat for a few minutes. Season with salt and pepper, add the vegetable broth, and cook for about 20 minutes over medium heat. Discard the garlic and blend the mixture in a food processor; strain with the soup strainer to get a velvety smooth consistency. Set aside to stay warm. Cook the gnocchi in boiling salted water; drain and toss with the oil. Pour the cream into a bowl and gently place the gnocchi in the middle. Season the dish with fresh parsley, and serve immediately.
Ingredients
For the gnocchi:
3 cups (400 g) of grated Pecorino Toscano DOP,
1/3 cup (70 g) cottage cheese
1 teaspoon turmeric
1 egg
1/3 cup (30 grams) of bread crumbs
1/3 cup (30 g) flour
4 tablespoons extra virgin olive oil for drizzling
For the porcini cream:
4 cups (500 g) mushrooms,
parsley to taste,
1 clove garlic,
3 tablespoons extra virgin olive oil,
1 teaspoon (3 g) of salt,
1 pinch of pepper,
1 potato,
2 cups (500 ml) of vegetable stock.