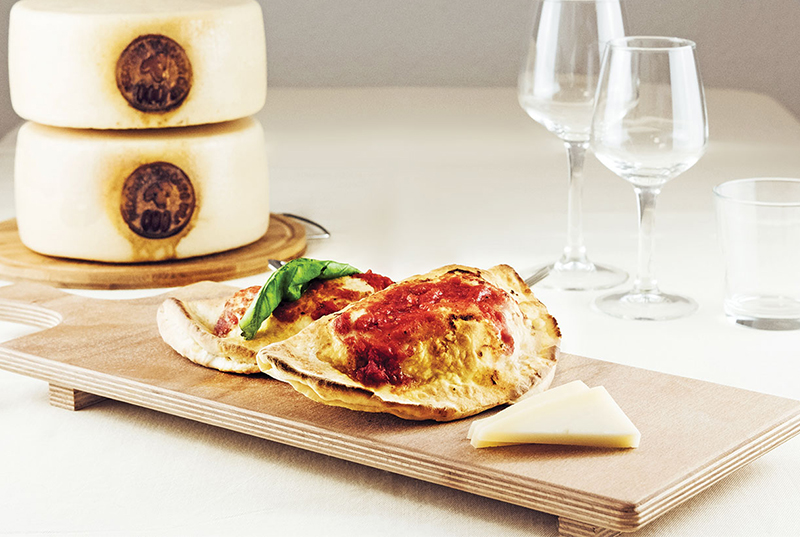 Preparation
Dissolve the yeast in 400 ml of tepid water. Add sugar and the mashed potato pulp and then pour the mix in a well in the center of the flour. Work the dough for a couple of minutes and pour gently the remaining water, salt, and oil. Work for 10 minutes at least in order to get a smooth, flexible, and quite soft dough. Cover and let rise for at least 1 hour.
Dice the fresh Pecorino Toscano DOP and mix to the grated Pecorino Toscano DOP, the minced basil, the tomato and then dress it with salt and pepper. Roll out until the pasta becomes a few millimeters thick. Cut it with a rounded pastry cutter of 8 cm diameter. Then, add one spoon of stuffing at the center of each disc. Brush the edges with the beaten egg. Fold in the middle pushing the air out and sealing properly their edges to close the "calzoni".
Let it rise another hour and brown both sides in hot oil.
Ingredients
1 kg "00" Flour
g 150 Potato pulp
g 450 Water
g 25 Brewer's yeast
g 60 Tuscan oil PGI
g 20 Table salt
g 600 Fresh Pecorino Toscano DOP
g 200 Thick tomato pulp
g 100 Grated Pecorino Toscano DOP
Basil leaves to taste
Oregano to taste
Egg white to taste